Generation Z and their contradictions
The new ECC CLUB study "Future Needs of Generation Z" unearths some surprising insights about Generation Z. For example, the 16 to 26-year-olds, sometimes referred to as "Generation Greta", do not take it very seriously when it comes to sustainable consumption and generally feel overwhelmed.


Technology and innovations make people skeptical
Generation Z grew up with digital technologies. However, according to the study, young people are very skeptical about technological change and feel overwhelmed by the information overload and fast pace of life. Around 63% think that technological innovations and their use should be regulated in the future. More than half (53%) even have a queasy feeling when they think about technologies of the future.
Gen Z seems to appreciate reliable structures far more than is commonly assumed. The rapid speed and the many options are not only perceived as an opportunity, but also unsettling, as the study results show.
The digital natives like to be inspired on site

The overwhelming flood of information seems to be self-made to a certain extent, because Gen Z chooses the digital continuous sound reinforcement and uses the smartphone constantly: 34% state that they are on the cellphone around the clock, 56% several times a day. Youtube, Instagram and Snapchat are the most used social media channels.

More than half of those surveyed use the internet rather aimlessly and simply pass the time there. Only 12% inform themselves about products and offers every day; at least 39% do it at least once a week.

When it comes to shopping, Generation Z likes to be inspired locally, even more than in social networks. So classic strolling seems to be going down well with the highly digitized.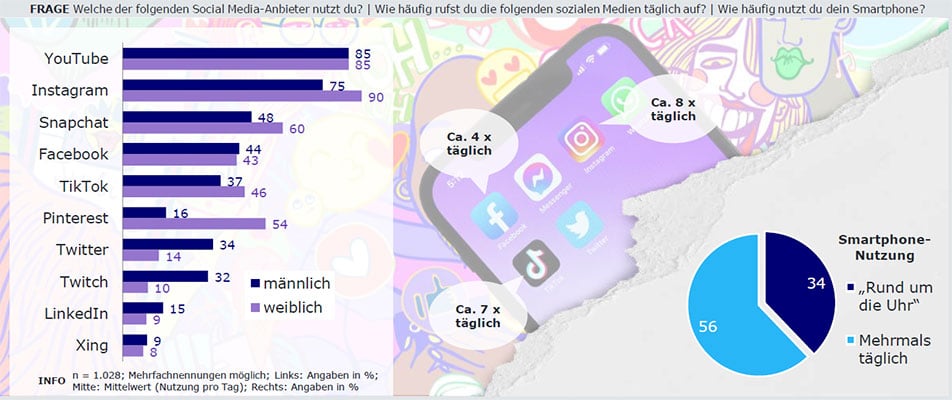 Sustainable consumption, but without sacrifice
A majority of those surveyed (84%) would like tougher measures to protect the environment. But only 54% state that the reason for consuming sustainable food is that they act ecologically and want to take care of their environment - for a total of 72% the price is more important than sustainability. And Generation Z doesn't want to do without cars either, although they are aware of the negative effects on the climate. On the other hand, a third believes that a sustainable lifestyle is feasible without making compromises.
Brands are important, second-hand is welcome
When buying clothes, Generation Z acts a little more sustainably and also demands ethical processes and honest communication from manufacturers. More than half pay attention to well-known brands and their image when it comes to products, but like to shop on second-hand platforms (57%). Only behind is the manufacturer's online shop (38%).
What does this mean for retail?
In the light of Fridays for Future, Generation Z is presented as particularly sustainable. The study results suggest that this population group is somewhat overestimated. Nevertheless, ecological and ethical aspects play a role for young people when it comes to consumption – as long as it is not a question of completely abstaining from it. Manufacturers or retailers who are convincing in terms of fair working conditions and sustainable production and supply chains and who communicate this transparently should be ahead of the pack with these consumers.

This is especially true if they manage to offer a coherent customer experience and stand out from the crowd. Young people appreciate shopping locally, but are also constantly online and use their smartphones all day long. It is therefore clear that online and offline channels must be optimally interlinked and that omnichannel commerce is the new standard.



About the ECC CLUB study
Torn, traditional and under immense pressure - the new ECC CLUB study sheds light on the behavior, attitudes and needs of Generation Z. That group of people who were born between 1996 and 2006 and who today not only as customers, through their direct Purchasing power, but also as potential employees, have considerable relevance for companies. The IFH Cologne wanted to know how this generation ticks: What makes Gen Z happy? What dreams are you pursuing? And what fears and worries are they driving?

Climate change, Corona, a high awareness of inequality in the world and, very recently, the war in Ukraine have left their mark. They noticeably influence the world view, the values ​​and expectations of the generation and thus differentiate them greatly from previous generations. But what does everyday life, consumption and media behavior look like for a generation that is confronted with such issues? How does Generation Z feel about the world of tomorrow? And what exactly does the generation of the future need? The answers to these questions present companies with completely new challenges, but they also open up a multitude of new opportunities and possibilities.