It's all a question of the label
What do you actually think of when it comes to a label? In the context of online trading, one can of course first think of a fashion label, but above all e-commerce is about the topic of shipping - and thus also shipping labels. Because such a shipping label is the basic requirement for the customer to receive his goods and, if he does not like them, to be able to return them. And so that nothing goes wrong in this process, labeling is best automated.
In other words, the online retailer processes the order as normal in their shop, ERP or merchandise management system, presses the print button at the end of all the necessary entries and the appropriate shipping label for the shipment is printed out.
Advantages of a multi-carrier connection
Regardless of whether the retailer wants to send his shipment with DHL, DPD, GLS, UPS, Deutsche or Schweizer Post, with TNT, ANGEL or other parcel services. As an online retailer, you can probably imagine that this selection is technologically possible. But how can such a multi-carrier connection be implemented at all? And does that even make sense? The answer is: "Yes".
Because the connection of different parcel services brings several advantages - both for the dealers and the customers. Your own IT can be greatly relieved by using a shipping service provider such as shipcloud, as they take care of the entire connection, maintenance and updating of all carrier interfaces. In addition, the individual connection to (new) CEP service providers is usually associated with high costs and is therefore time-consuming. And since the topic of shipping is still one of the most important criteria for customer satisfaction in e-commerce, the online retailer can not only let its customers choose their favorite parcel service by connecting several shipping service providers, but also easily and easily switch between several in times of strikes or multiple orders change shipping service providers.
The technology is multi-carrier capable and cloud-based, this freedom was important to us. And so, in addition to DHL, we can also use DHL Express and perhaps other shipping service providers in the near future.
(Elbenwald co-founder and managing director Dirk Wiedenhaupt)
Cloud-based API for fast connection
Thanks to shipcloud's modern, cloud-based RESTful API, integration into the online retailer's system is faster and easier than connecting to the individual parcel services. The merchant can also integrate its own contracts with the shipping service providers. Not to be forgotten: The technology also includes shipment tracking, with which retailers and customers can always see exactly where the packages are at the moment. Multi-carrier tracking provides both the retailer and its customers with all relevant shipment information.

And just in case, the online retailer can use this technology to set up its own returns portal within a very short time. In this way, he gives the customer the option of returning shipments as required. The customer can print out this return label by downloading it as a PDF or conveniently have it sent to you by e-mail – also as a QR code on your mobile phone. He also has the choice of which shipping service provider he wants to use for the return. It's that easy.
Working with shipcloud was completely uncomplicated for us. No superfluous IT components, everything in the cloud, a good interface, the right service - that's enough.
(Thilo Haas, online furniture retailer Connox)
Plugins for many systems

If the retailer uses a shop system such as Shopify, Shopware, WooCommerce or a merchandise management system such as Weclapp or Microsoft Dynamics Nav, using it means only minimal effort for him, because there are already ready-made shipcloud plug-ins for these and many other systems can be integrated in just a few simple steps. If the retailer sells via a hosted platform, no problem either - shipcloud is already integrated into the ROQQIO Commerce Cloud. You can immediately create and track shipping labels via the shop's order management on this platform.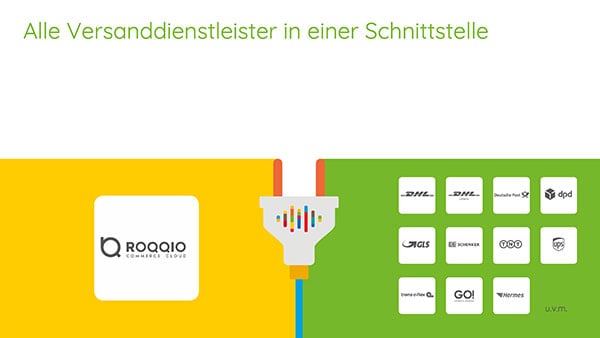 About shipcloud

shipcloud is the shipping service provider for ROQQIO and offers a simple and uniform interface to all relevant shipping service providers (DHL, DHL Express, UPS, Hermes, DPD, GLS, Deutsche Post, Post AT, Post CH, DB Schenker and many more). This saves time and enables immediate international shipping, including automatic shipment tracking and a smart returns solution.