Channel integration & customer-related services in the focus of retail
Retail wants to become more digital, standardize the purchasing processes across the touchpoints and focus on the customer. This is shown by the study "Connected Retail 2020. Strategies, Challenges and Trends", for which the EHI surveyed retail experts from the DACH region.
Lars Hofacker, e-commerce expert and study author at the EHI, on the study results: "Many things are now possible in retail that sometimes seemed difficult before Corona. Availability display, online reservation, drive-in pickup - these are all services that customers are now using actively. More than 30 percent of dealers offer new or expanded services at short notice."
Connected Retail: Interlink sales channels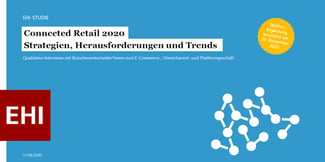 As the study shows, retailers have the integration of existing channels, the development and expansion of marketplace and platform efforts and the expansion of touchpoints on their agenda, as well as the introduction and optimization of customer-related services such as payment methods, virtual advice, click & Collect and in-store return.
Customer Centricity & Customer Empowerment

Retailers want to focus on the customer in the future - as the EHI study shows, more than a third of those surveyed are dealing with this topic. They name omnichannel services as must-haves for a successful customer relationship. Most retailers see click & collect as the most important service, followed by in-store return. Retailers are currently working on optimizing existing omnichannel services and introducing new ones.

Omnichannel services go hand-in-hand with cross-channel sales processes, because it blurs the boundaries between online and offline channels. They also contribute to the so-called customer empowerment, which describes the fact that the customer sets the tone: He determines where he gets inspiration and orders, where he picks up the goods, how he pays for them or returns them.

Retailers currently also see services relating to shipping, returns and payment methods as important for customer satisfaction. In the future, this will also include greater personalization and individualization, for example in the form of personalized start pages and advertisements or individually adapted deliveries.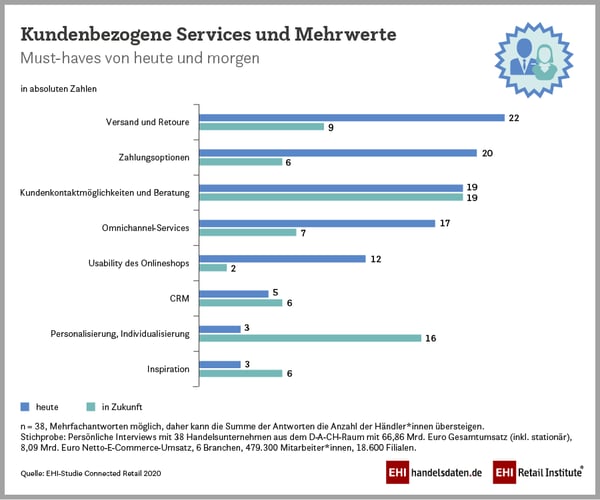 What are the most important sales channels?
Retailers mainly use their own online shop or their own platform, their own app or a third-party platform as digital touchpoints. In stationary terms, having your own shop is important. 29 percent of trading companies want to offer an app in addition to their online shop in the future, be active on a marketplace or even become a platform themselves.
Trend 1: Mobile
The study shows that more than half of retailers use an app in addition to their own online shop or platform. The use of Progressive Web Apps (PWA) plays a major role here. These are hybrids of a website and a mobile application, in contrast to native apps, which are often seen as too expensive and no longer up-to-date. The advantages of PWAs: They do not necessarily have to be open to run. For example, they can receive push messages offline, offer an add-to-homescreen button and can improve findability on the web.
Trend 2: Platforms
Platforms have been a trend for several years and are used by almost all respondents. Around 66 percent of the retail companies surveyed use marketplaces such as Amazon, eBay and real, and 71 percent rely on price comparison portals such as idealo, Check24 and billger.de.

Retailers are now clearly pursuing a multi-platform strategy and selling their products via several external marketplaces and/or price comparison portals. They want to open up new target groups via the various platforms or simply sell goods. Retailers see the disadvantages of using it in brand dilution and the loss of direct customer contact and data sovereignty.
Stationäre Ladengeschäfte
Für dreiviertel der Händler ist das eigene Ladengeschäft immer noch wichtigster stationärer Touchpoint. Dennoch beschäftigen sich Händler mit neueren Formaten wie City-Stores mit kuratierten Inhalten, Pop-up-Stores oder Abholpunkte für Bestellungen – in dem Wissen, dass Geschäfte künftig mehr bieten müssen als den reinen Verkauf.
IT one of the biggest challenges

Retailers rely disproportionately on external service providers in the areas of marketing, logistics, fulfillment and IT - i.e. in the core areas of digital commerce. They consider service providers to be the better solution providers and, above all, hope that this will result in rapid scaling of their online and offline business.
In the end, it's always about customer benefit. We can only do that because we have a good system architecture.
(participant in the study)
For 42.1 percent, technology and data-centric issues represent the greatest effort. This includes above all the linking of systems such as the web shop and payment systems in order to implement omnichannel services such as Click & Collect.

Nevertheless, more than half of the retailers are currently working on internal process optimization such as setting up a technological back-end platform on which several online shops run.
About the study
38 trading companies (with at least one digital sales channel) from DACH were asked in personal and telephone interviews about their strategies in relation to the various channels and their interaction. Together they operate 18,600 branches and their turnover amounts to 66.86 billion euros, of which 8.09 billion euros are e-commerce sales. www.ehi.de